Welcome
Details of our Sunday worship and youtube is here
To read our latest Church Magazine click here
---
Our Facebook feed
We are a growing church in the heart of the town. We think of ourselves as open to the whole Community, for worship, christian growth and a welcoming place for many social groups to gather. Taking inspiration from Jesus in Matthew 5 v 16 , we believe our church is called to "Let your light shine"
We were formerly called the Free Church but after we re-united with Woodhall Lane URC in 2014 we are now known as Welwyn Garden City URC. We have a wide range of worship and community activities based in and around our building.
Our Church is part of the United Reformed Church,which traces its roots back to the Presbyterian Church, the Congregational church and the Churches of Christ and the Bible has a central place in all our worship.
Many of our church activities are run by volunteers and there are lots of opportunities for involvement
Prayer for Ukraine
God of all,
with alarm and concern we bring before you
the military intervention in Ukraine.
In a world you made for peace and flourishing,
we lament the use of armed force.
We mourn every casualty of this conflict,
every precious life extinguished by war.
We pray comfort for those who grieve
and those who are fearful.
Hear our longing that leaders and nations
will honour the worth of all people
by having the courage
to resolve conflict through dialogue.
May all our human failings be transformed
by your wonderful grace and goodness.
We ask this in the name of Christ,
the author of peace and sustainer of Creation.
Amen.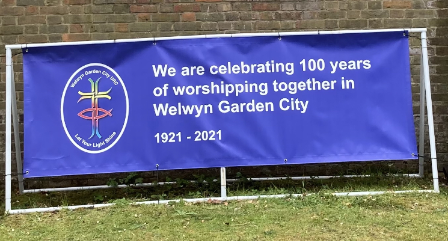 CHARITY NUMBER : 1167010